Paddy, March 2007: "It was one afternoon in 1997 that Eve arrived in Special Collections and Archives at the University of Liverpool, where I was working on the Gypsy Lore Society Collections. Eve had read about the collections in her venerable Encyclopedia Britannica, and had come to research Romany folklore about horses for My Horse, My Wife, and Myself. I'd just had some web design training from Netskills, so I volunteered to make a webpage for 'My Horse... '. Turned into this website. Oh, if you visit the archives, you can see the script for 'My Horse, My Wife, and Myself' which Eve donated."
| | |
| --- | --- |
| Paddy: "This is the Commodore Mini Tower my Dad had given me the year before. I was still using this computer for making Spin Off webpages until about three years ago.". | 1997. |
| Paddy: "For a couple of years, the webpages included the phrase 'An It's Not My F---ing Moustache Production' in the footer. This was from the punchline of a backstage story that Eve had told me when she visited the archives. I can't remember the rest of the story now!" | 1999. |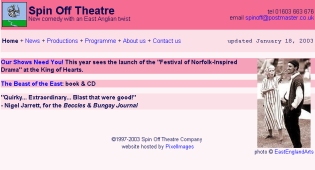 2003.
| | |
| --- | --- |
| Paddy: "Max the cat on my laptop last summer." | 2005. |
This page was made possible by the Internet Archive.
[ top